I submitted this article more than a year ago to the China Daily Newspaper when I still lived in Changzhi. As you can see it  took more than a year to get published. I like how they jazzed up the article with a more descriptive vocabulary.
CHINA DAILY
Life  Section
Noodle heaven that is also a safe haven
By Sun Li (China Daily)
Updated: 2011-05-04 07:58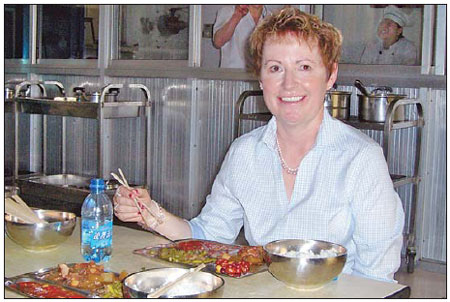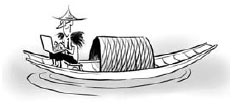 EDITOR's Note: "Home & Away"is a section about the life experiences of expats living outside of the major metropolises like Beijing and Shanghai. If you are such an expat and have an interesting story to share, please send an e-mail to expat@chinadaily.com.cn.
Joan Wayment says it feels great to walk around Changzhi city, in North China's Shanxi province, and not be nervous.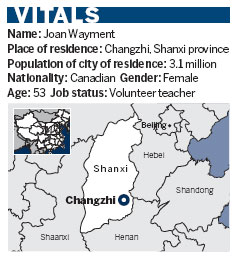 "You can walk down any street in town, and not worry about being assaulted or robbed," Wayment says.
Having lived in peaceful small towns in the United States for 30 years, Wayment is happy to have that environment replicated in a small Chinese city.
But her favorite part about living in Changzhi is that she gets to see the rustic side of a city on the fast track to development.
"I am impressed by the construction that seems to be going on everywhere," Wayment says.
"It is fascinating to see there is still so much manual labor today," she says, referring to street sweepers, delivery boys, and people cleaning the snow using brooms to shovel it into carts, instead of mechanical cleaners, coin vendors and snow plows.
Wayment adds she is also captivated by the picture of donkey carts on the streets alongside sleek buses and fancy cars.
The 53-year-old landed in the city in 2009 to join her husband, who came to Changzhi six years ago to work for a coal mining joint venture.
Given the city has just one KFC and Pizza Hut, the couple don't have much choice when it comes to Western food. But Wayment says both she and her husband relish the food that the province is famous for: noodles and vinegar.
Wayment is amazed she can get the noodles for a very reasonable 3 yuan ($45 cents) and swears by her special noodle seller who will generously throw in a couple of hard-boiled quail eggs for that added taste.
"Wherever I go, I bump into diners eating noodles. Everyone here seems to have their three meals a day on little stools, at sidewalk tables," she says.
Asked about her "culture shocks", Wayment mentions the 24-hour traffic and "streets packed with pedestrians and bikes".
She adds that riding a bicycle in all that traffic is mentally and physically exhausting and her husband and she are probably the only ones in town to wear a helmet.
"When driving around, I have to take many detours owing to road blocks and the muddy roads," she says.
"At one point, instead of four lanes of traffic going in two different directions, we had five lanes going in one direction. That really zapped me."
Once, when Wayment walked down the street, she almost caused a traffic accident because people were staring at her and not looking where they were going.
"As I am the only Western woman in this city of about 3 million people, I am stared at wherever I go," Wayment says.
According to her, people often strike up a conversation in Chinese and normally she replies by saying "ting bu dong" (I don't understand what you're saying.)
"But no matter how many times you claim that you don't understand, they just continue to talk and their voices get louder and louder."
Despite all this, the Canadian says she enjoys participating in or being invited to festive occasions, especially Chinese weddings.
She was surprised when a wedding was held outdoors although it was still January, and none of the guests seemed to mind the bone-chilling weather.
Since settling in Changzhi, she has been working as a volunteer teacher at a local middle school.
She takes delight in driving a couple of students to school and chatting with them. It's both an opportunity for them to improve their English and for her to practice her Chinese.
She describes her Mandarin as "very limited" saying it just lets her get around in a cab and order food and drinks.
During her spare time, Wayment likes walking through a park to feel the city's vibe, sharing her China stories on her blog, going to the gym, and traveling around the country.
Asked whether she wants to live in the country's major metropolises, Wayment says it would be fun to live in cities like Beijing where many people speak English, but plans on staying in Changzhi for a few more years.
"I like to see people's daily lives in this rural area. Everything is very inexpensive and you can easily get around because it is small."
China Daily